The newly signed legislation is slated to become effective after the Congressional review period.
Cooling centers, extended pool and splash park hours offered to residents.
No events available at this time.
Highlights
The Heat Emergency Plan goes into effect when the temperature or heat index reaches 95 degrees.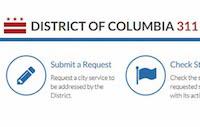 The improved 311 platform makes it easier to report and track service issues.